Stand out with the 'King of Wallpaper'
Stand out with the 'King of Wallpaper'
Do you like striking colours and patterns? Or perhaps you are done with monotony and dare to stand out? British TV personality and 'King of Wallpaper' Paul Moneypenny is known for his exuberant, eclectic style and has designed his own wallpaper collection with Grandeco. Get started with his tips and immerse yourself in his universe of quirky designs for a colourful and bold feel-good interior.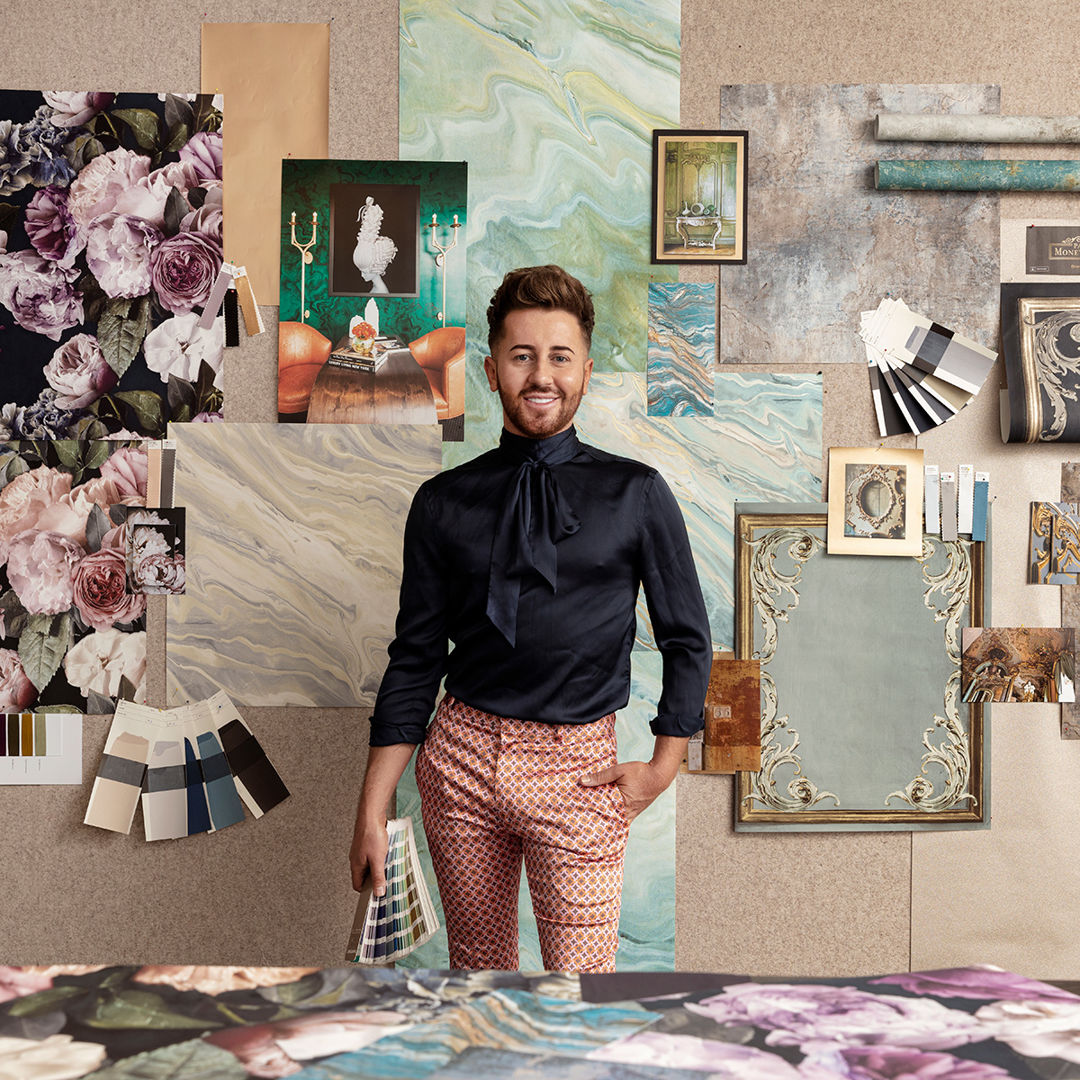 In today's society our home is our biggest asset. It's a safe haven where we live, work and relax. After a long period of neutral interiors, we are longing for a splash of colour and experimentation again. This led to a collaboration between Grandeco and Paul Moneypenny earlier this year. Based on Paul's eclectic, colourful style and years of experience working within the wallpaper and fabrics industry, the British TV personality and 'King of Wallpaper' worked hand-in-hand with the Grandeco UK design team to design and develop a wallpaper collection that is unique, accessible and easy to apply.
He has lavished his designs with a generous portion of feel-good vibes - "During the creation process, I do not want to feel constrained. I want to be able to make choices that give me a good feeling and positive energy that I can pass on to others through wallpaper."
"Since childhood, I have been attracted to anything colourful, exuberant and bold. So it's not that I want to shock people with my designs. My eclectic style simply fits my personality."
Paul Moneypenny
Follow Paul Moneypenny's wallpaper tips for a colourful and bold feel-good interior
1. Mix and match patterns
"I never follow trends for trends' sake. I do predict which trends will stick around for a long time and when you combine two keepers, magic will be created. No matter how divergent they are - Wild florals in duo with marble-print wallpaper? Just go for it!"
3. Play with colourful decoration
"Wallpaper is the tool of choice to bring colour into your home. Those who find it too daring to mix and match contrasting motifs can also opt for wallpaper with one multi-coloured motif and then complement it with a second, colourblock wallpaper in one colour. Or combine with textured wallpaper. That gives depth to your interior. And just that little extra punch."
Get inspired by the 'Paul Moneypenny' wallpaper collection
Gabrielle floral design / Rococo panel wallpaper
Statement wallpaper
Gabrielle is a dark dramatic photographic floral vinyl wallpaper. The sumptuous realistic blooms have contrasting tones adding to the deep realistic look of layered oversized flowers. Gabrielle adds an elegant feminine feel to any room. For this design, Paul Moneypenny used three on trend colours as the main focus in the pattern, it makes this wallpaper a popular choice to combine with a plain in a connecting colour.
Straight from fresco style Italian interiors, the Rococo panel is a photorealistic panel with ornate mouldings decorating each corner of the panel with highlights of a vintage style gold shine. It is subtle enough for those new to eclectic interior style. Or wallpaper one wall with Rococo and create a unique eye-catcher in your home.
Castello / Urban texture
Textured wallpaper
Castello Plaster uses a photorealistic authentic concrete mixed with soft brushed textures to create the look of distressed fresco walls. The plaster style emboss adds to the realistic effect. It is a textured wallpaper that you can safely wallpaper more than one wall with. Castello is available in three colour variations.
For those who have invested in a minimalist interior with neutral colours and a sleek design in recent years, there is Urban texture. This luxury blown wallpaper has a semi-plain design of distressed stone from old Italian architecture. The subtle metallic accent creates soft, timeless glamour and will transform your interiors with beautiful, elegant style.
Marble
Marble wallpaper viewed differently
Straight from fresco style Italian interiors this photorealistic marble with its diagonal pattern, strong metallic shine and striking tones makes for the perfect feature wall, or use all round for a maximalism wow factor The wallpaper is available in two colour options, from a soft neutral to a striking blue.
Tissu
Uni wallpaper with texture
Tissu lets you play with texture; it's ideal for those who want to apply the eclectic interior style in a subtle way. The textured wallpaper also has a touch of gold and metallic which will make the wall sparkle.
Wallpaper with Paul Moneypenny
Ready to put the wallpaper tips from the 'King of Wallpaper' into practice?
Share your results on social media? Then use the hashtag #grandecoxpaulmoneypenny! Good luck!
Other content
Creative photo wallpaper for your modern interior
Which wallpaper suits your modern interior and your personal style? Get inspired by the five themes of the Mural Young Edition XL wallpaper collection.
Jungle Luxe with warm colours and a shiny touch
We added warm, dark colours and a shiny touch to the jungle trend. The more luxuriant, the better - even with wallpaper. Our Jungle Luxe selection!