Inspiration boost: wallpaper in your living room
Inspiration boost: wallpaper in your living room
Your living room remains the cosiest place in your home for convivial get-togethers or some welcome peace and tranquillity. This room therefore warrants the necessary attention in terms of interior decoration. Our four style tips below will ensure that your living room is on trend and simultaneously enable you to enjoy your most inviting room to the full.
Wabi Sabi
Our love affair with wabi sabi endures. Particularly when it comes to your living room; the ideal place to relax and unwind after a hectic day. Say hello to a living room with perfectly imperfect details: natural textures, warm colours and soothing accents.
Grey 2.0.
For those who find white too traditional yet prefer to avoid vibrant colours, grey strikes the perfect balance. You can readily apply this shade throughout your interior, including in your living room. Combine to your heart's content with natural materials and grey leaf motif wallpapers for added depth.
Invite the outside in with flowers
They're a huge hit on Instagram and can be found in the living rooms of interior design influencers the world over: dried flowers are hot news and a great way to invite natural, delicate textures into your home.
Prefer something more bold? Then go for an XL flower mural from our Plains & Murals collection. These flowers never fade and can be relied upon to retain their intensity over the years.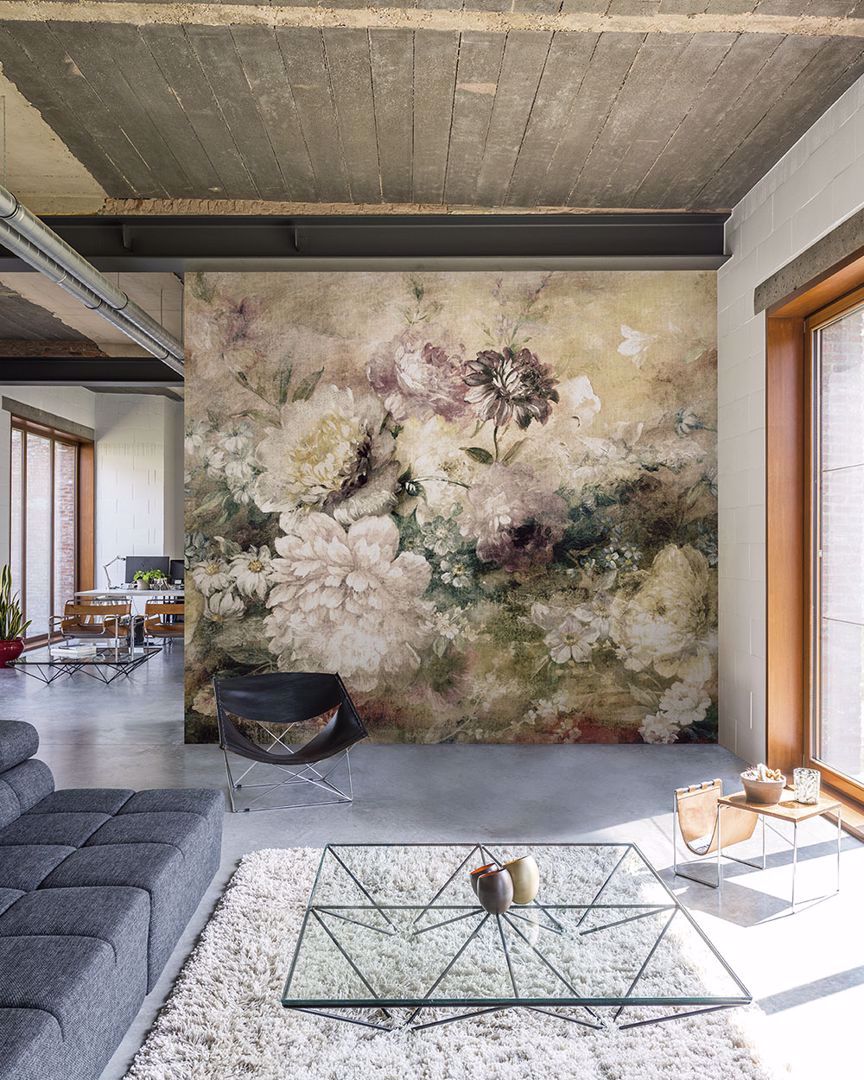 All curves
Get your interior in shape by opting for bold patterns with curved motifs. Circles and curves are all the rage and make a striking statement in your living room. A wallpaper with curved motifs adds a touch of style to every room.
Enhance the luxury and repeat the shapes in your interior. For example, add nice poufs to your living room, totally trendy and ideal for cosy winter evening with your family.
Other content
Timeless Living
Do you opt for timeless wallpaper? Grandeco has a number of tips to help you choose!
Inspiration Boost: create an industrial look with wallpaper
Good news for those who love brick, weathered materials and sturdy metal: an industrial interior will continue to be a great choice. This is how you create this interior trend with wallpaper.