Inspiration Boost: create an industrial look with wallpaper
Inspiration Boost: create an industrial look with wallpaper
Have you always dreamt of living in an industrial-chic loft? These days it can be difficult and expensive to find a suitable property such as an old factory building, warehouse or abandoned workshop. If you're looking for a faster and rather more budget-friendly way to achieve this dream, why not try using wallpaper to create an industrial look?


Lifelike wallpaper

Grandeco's photographic wallpapers depict natural and well-worn materials that really are almost indistinguishable from genuine aged surfaces, actual scaffolding planks and real metal sheets on the wall. A great way to create an interior with a fabulously grungy and authentic character. The industrial motifs have a raw, robust look, but feel cheerful and characterful at the same time. Even better: wallpaper means you don't have to deal with the drawbacks of a peeling and flaking industrial interior. Fancy a change after a little while? Not a problem!
1. Bricks, bricks and more bricks
An easy and affordable way to conjure up exposed brickwork is to decorate your walls with realistic brick wallpaper. With our brick wallpaper, your walls will look like they have been around for many years. These four photographic prints are so lifelike that you have to reach out and touch them to check if the plasterwork is real or not.
2. Worn wood
Walls decorated with wood bring authenticity and warmth into your home. It can be used to create different styles and atmospheres, including the industrial look of course.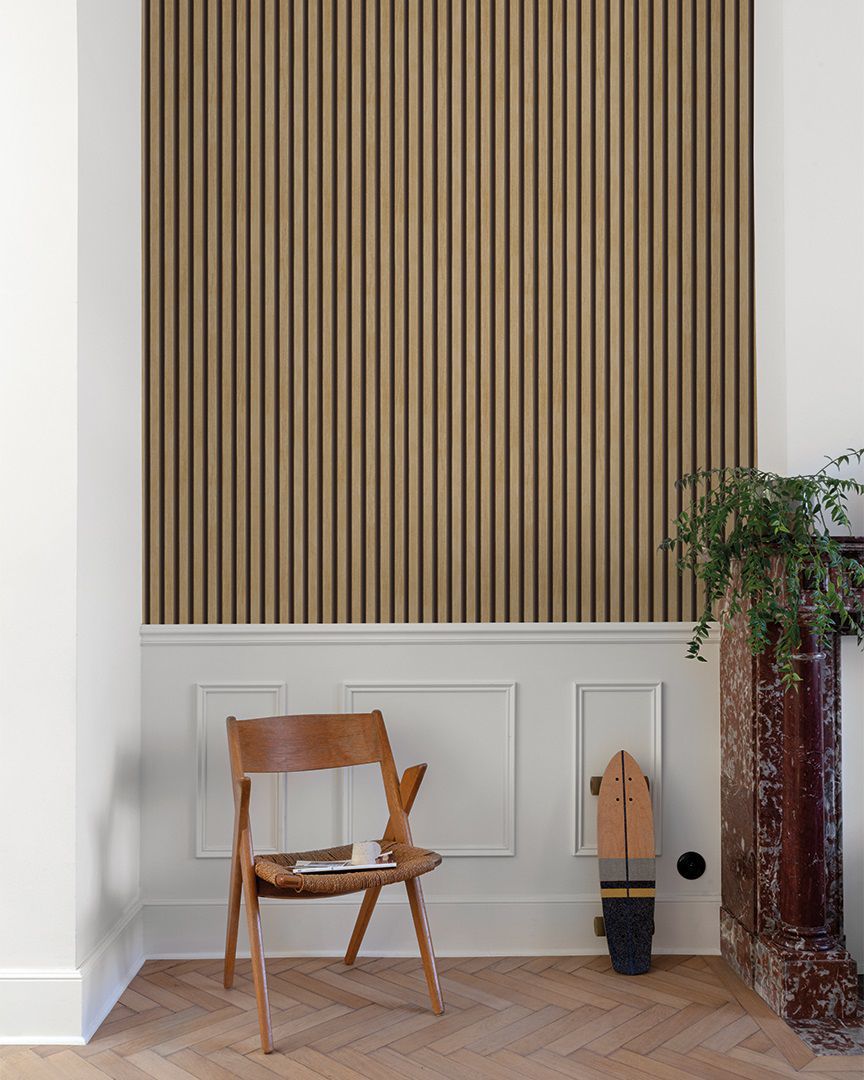 Wooden stripes
Photo-realistic vinyl embossed wallpaper of vertical slat planks adds the look of real wood in any room. This subtly textured wallpaper featuring slatwall wood gives your walls depth and interest. It gives your interior an industrial yet warm atmosphere. Ideal as a contempory feature wall in any room of the house.
Choose wallpaper with a brick, wood, metal or concrete motif and give your interior an industrial character in no time.
3. (Old) metal
If you think of industrial, metal is the real thing! Wallpaper inspired by metals is the perfect fit for an industrial living room because it captures the essence of the industrial aesthetic. The textures and patterns of metal-inspired wallpaper create a sense of rawness of factories and warehouses.
4. Concrete texture and painting effect
Wallpaper with a concrete texture or painting effect is an excellent choice for an industrial living room as it adds to the raw and edgy look that is characteristic of this style.
Other content
Timeless Living
Do you opt for timeless wallpaper? Grandeco has a number of tips to help you choose!